When you apply somewhere, for example for a study program at a university or a job position at a company, your Curriculum Vitae (CV) or resume is mostly your first impression and it matters a lot. Learn how to write a CV or resume, so that your first impression counts.
Most of the times, a reader from an admission committee or a Human Resources (HR) department would take only a few seconds or minutes to go through your CV in order to get an impression of you as an applicant.Your job is to make sure that regardless of the time readers spend on your CV, they are impressed and convinced to go through your application documents in detail.
First of all, let's understand the difference between a CV and a resume.
Difference between a CV and a resume
First of all, you should understand the difference between a CV and a resume. They're documents that contain your contact information and show a summary of your academic background, work experience and additional skills, which are relevant to the study program or job position you're applying for. In Europe, mostly a CV is required for applications while in the USA, normally a resume is asked for.
There's no hard and fast rule about the length of a CV or resume. A resume is normally one page long. It either summarizes all the information or contains only the most relevant information. On the other hand, a Curriculum Vitae (CV), which is Latin for "course of life", usually consists of two pages. It includes more detailed information. Best practice is to use the document that's required for your application. The following tips will help you make an eye-catching CV or resume, so that your application stands out.
Tips on how to write a CV or resume
Following are some points you should keep in mind before you write a CV or resume:
Detailed vs tailored CV: Decide if you want to make a detailed CV or a tailored one. A tailored CV includes only the information that is relevant to the position you're applying for. It's called tailored because it is tailored to fit that particular position. My recommendation would be to make a detailed CV first and then tailor it for different positions if need be.
Simple or stylish CV: This is again your call. There might be different norms for different fields. For example, a simple CV that contains only text in black color may be good for mechanical engineering. A stylish one, which is more colorful and includes some kind of bars/stars to highlight your skills may be good for IT, arts etc. It's suggested to be slightly different than the norm to stand out but don't go on the other extreme.
Layout: Be consistent throughout your CV or resume regarding the margins, line spacing, font and font size. Keep in mind that the goal of the layout is to make the CV legible and attractive. Therefore, choose a font that is relatively simple, such as Arial, Calibri or Times New Roman, and keep the font size to 11-12pt for the body and 14-16pt for the headings.
Spell check: Make sure your CV/resume doesn't have any spelling or grammar mistakes. Use a good spell checker and get your CV reviewed from someone else. In this way, mistakes can be spotted and corrected in case you overlooked them.
Action verbs: Action verbs are a good way to highlight and communicate your achievements and experiences. Some examples are inspired, accomplished, coordinated, launched, solved, etc.
Keywords: Did you know that some companies and universities use screening software to evaluate your CV? In this regard, keywords play a major role. Do your homework to find out what keywords are important for the given position and mention them effectively in your CV. Effectively means instead of simply writing the word "teamwork" under skills, try to associate it with an experience, award etc.
Less is better: Don't overwhelm your readers with a lot of information. Keep it short, simple and relevant. The key here is to convey more with fewer words.
Now that you're ready to write a CV, let's see what can be included in it.
What to include in a CV or a resume
Personal Information
This section in your CV or resume contains your personal information such as name, address, date and place of birth, marital status, nationality, email address, phone number etc. Make sure to check what the normal practice is in the country where you're applying and add personal information according to that. For example, it may or may not be standard practice to add information such as marital status and nationality in your country of interest.
Photo on CV or resume
Should I include a photo on my CV or resume? It's a very common question people ask themselves. Well, again it depends upon the standard practices. For example, if you're applying in Germany, it's recommended to include your photo on your CV. However, if you're applying in the USA, it's not a good idea to add a photo of yourself on your resume. If you're including a photo, it should of course be a professional photo (formal or semi-formal).
Personal Statement/Career Objective
Adding a personal statement or career objective on your CV or resume is entirely up to you. If you do want to add this section, make sure to keep it short, one to three sentences/lines. Furthermore, be specific about the study program or job position you're applying for. Show the relevance of your skills and passion for the given program/position. If you don't have anything specific, I'd suggest you better skip this section instead of adding a generic line for all your applications.
Educational Background
When you write a CV or resume, your educational background is one of the most important details. List your educational qualifications in reverse chronological order on your CV or resume. This means that the most recent details are listed first. Information such as name of the university and degree, major, time period, thesis/final year project, grade etc. should be included.
I'd recommend including the original grade with minimum and maximum possible grade. For example, 3.7/4.0 (min. 2.0 – max. 4.0). Additionally, mention the converted grade in the grading system of the country where you're applying. The converted grade helps readers evaluate your profile easily.
You can either add some relevant projects, certificates and study modules/courses under educational background or make a separate heading for them. It depends upon how much information you've and how relevant it is. However, do not add too many projects/courses, 2 to 3 projects and/or 3 to 5 courses are normally fine.
Concerning high school, you should include your high school on your CV or resume if you're applying somewhere right after high school or bachelor's degree. But if you already have an advanced degree such as a master's degree/a Ph.D. or some years of work experience, high school might not be relevant anymore. You could use that place for more relevant information.
Work Experience
List your work experience in reverse chronological order on your CV or resume. Include details such as company name, location, job title, time period, roles/responsibilities etc. When it comes to roles and responsibilities, use bullet points (normally 3 to 5) and don't write sentences or paragraphs. Convey more with fewer words. Instead of simply writing what you did there, concentrate more on the value your role brought to the company and what you gained, for example skills and personality traits/life lessons etc.
You can either add internships and volunteer work under work experience on your CV or make separate sections for them. It depends upon how much information you've and how relevant it is.
If you think your work experience is more valuable and relevant to the position you're applying for, you can list it before your educational background.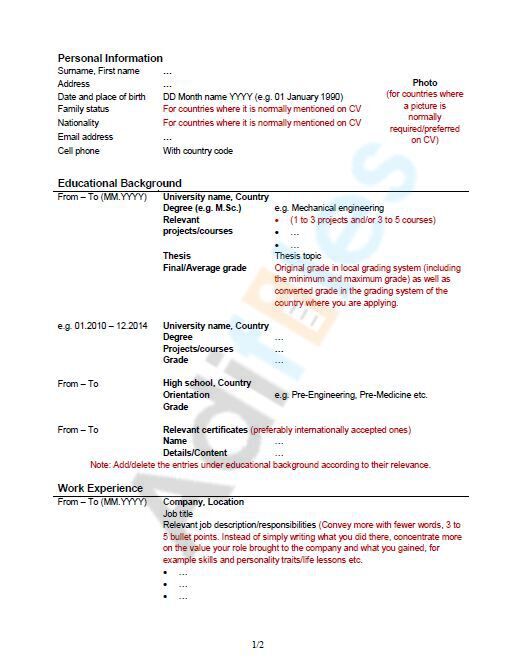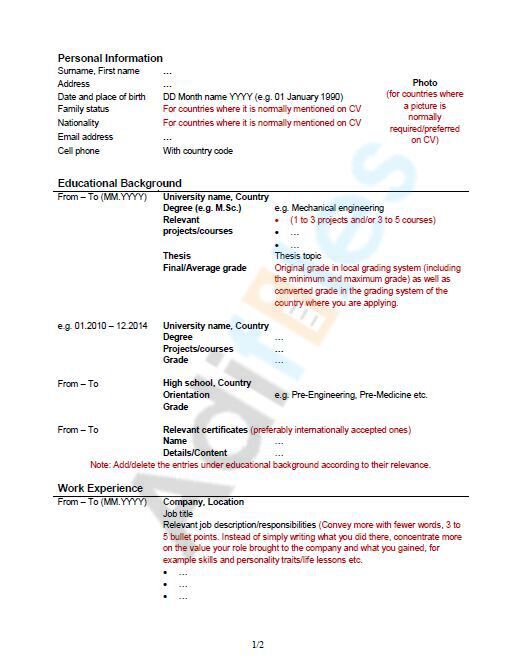 When you write a CV or resume, you can include a lot more than just your educational background and work experience. Let's have a look at some other sections, which can be included.
Further sections of a CV/resume
Interests/Social Commitment and Hobbies
You can add your interests and hobbies on your CV or resume. This section helps readers understand what matters to you as a person or what you like to do in your free time. I'd recommend adding interests related to social work or community service, which shows that you like to work for the betterment of the community.
Hobbies might show that you're active and like sports or you're curious about new things. For example, if something requires mental toughness or eye for detail and it's your hobby, it shows that you'll probably bring those traits with you to the position you're applying for.
Awards and Scholarships
You can add awards and/or scholarships on your CV or resume that're relevant to the study program or the job position you're applying for. This is a good way to let your results and achievements speak for you. For example, instead of simply writing "good public speaking skills", mention that award you've won for public speaking.
Additional Skills (e.g. software and language skills)
You can list technical, software, language or any other relevant skills under this section on your CV or resume. I'd suggest mentioning the level of competence in different skills. For software, you can do it using words such as basic, intermediate, advanced etc. For languages, words like beginner, intermediate, business fluent, native speaker etc. can be used.
One common mistake is to list too many software on your CV or resume. Try to list 3 to 5 most relevant software so that readers (from academia or HR) can easily see that you've the required skill-set for the position. Don't make your readers go through a long list and search for the relevant software.
Publications
You can include publications on your CV or resume, especially if you're applying in academia. The format of citation depends upon your field. Inform yourself about the suitable citation format and follow that. Again, add only the most relevant publications and not too many.
References
You can include references on your CV or resume if they'll support your application. For example, if you're applying for a research position, add a professor as a reference with whom you've worked on some research project. If you're applying for a job, include a referee from a company where you've worked or done an internship.
You can include information such as name, job title, company or university name, location, email address, phone number etc. of your referee. It's highly recommended to ask your referees if it's fine for them in case you list them as a reference. Concerning their privacy, ask them what contact details may be included and what should be made available only upon request. Lastly, don't forget to thank them afterwards.
We hope our tips will help you write a CV that stands out. Good luck with your applications!
If you want tips on how to prepare admission documents such as CV, Letter of Motivation (LOM), Letter of Recommendation (LOR) etc., check out Steps to Study Abroad.
Your CV plays a vital role in your admission and scholarship applications. In order to make your CV stand out and enhance your chances of getting selected, check out our Document Review Services.
Author: Adil Ilyas
Co-Author: Muhammad Tayyab